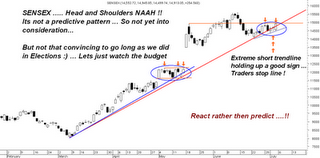 Sensex Technical View :
The index has done nothing in last few days but technical analysts have started pondering widely on different possibilities or patterns which have still not formed .....
In the extreme short term as i have always said REACT RATHER THEN PREDICT ...
So starting of with explaining the notations on the chart and also the observations in the line below.
Few of the notations on Charts with focus on ELECTION time and BUDGET TIME
1) Ellipse showing the pattern at Elections and Budget -- Blue
Bit of similarity but a lesser range days this time
2) Momentum Trendline - Blue and Red
Just a little dip below in both cases. ( false alert )
3) Arrows for Tops
Similar tops seen around higher end it was 12300 before now 14950 ! ( Also previous ckt top at 14930 )
4) Short term Trendline -- Orange and Purple
Recent daily bottoms were seen around short term trendline which were support levels holding up !!
Observations :
-- > There are a lot of similarities in both the formations before the External events. Similar fractals.
-- > The resultant move after elections was on the upside.
-- > Of all the technical observations nothing points to a trend changing indication as of yet.
-- > Short term trendline holding up is an indication of not many market participants taking a bet towards a negative breakdown.
-- > The market has moved up a lot and upmoves are not larger in magnitude now which might be a sign of exhaustion setting in.
-- > If the index has to break down there would be enough opportunities to react ( short ) below the short term trendline or on break of 14200 which is still 700 points away now.
-- > The trend remains positive but not strong as before. A move beyond 15500 may open up to 16050-16200 also.
-- > Only a conclusive move below 14200-14k confirms a trend change which can lead to further retracement to 38% .
Possible HnS ??
There is a lot of buzz around amongst lot of analysts , trackers about a possible Head and Shoulders ( HNS ) being formed on the indices. Similar pattern seen on Dow and SnP as well as other indices.
BUT --
Head and Shoulders is a pattern which gets completed only when the neckline breaks ( may even be followed by a re-test of line ).
Its not a predictive pattern. One needs to wait for lot of confirmations. Otherwise every other move on the index can be assumed to be a possible HNS or Inverted HNS.
So as of now till the neckline is not broken its not into consideration. If it breaks ideally every trader would get opportunity to utilize it so why WORRY now.
Conclusion :
TREND still remains up and many signifcant observations still remain positive. Probability of a further stretch to 15500/16050 remains high. Strategy should be to keep a stop of 14200 or short term trendline at 14550 for longs which should not be heavy !! .
"" If you are not in the market all you can lose is an opportunity Not Money""
Continue to adopt the wait and watch approach .... Detailed view and strategies again after tomorrows move which can also be a NO -EVENT.
Above analysis and work on site/schemes and lot lot more may keep me busy for the week so stock specific updates woud be lesser ( none today )
DO CHECK THE NEW SCHEMES AND OUR SITE --- Details posted below.
Send us your reviews on analyseindia@gmail.com and analyseindia@analyseindia.com
Best Regards,
Nooresh
09819225396
Analyse India