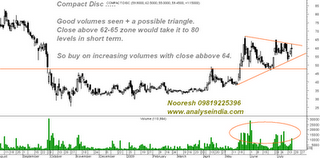 Compact Disc :
The stock looks excellent on short term charts , technically closing above 64 can take it to 80 levels also.
On a brief scan on moneycontrol shows a book value of 80 and p/e of less then 2 which surely makes it interesting as its in the animation field.
Views invited on the same
Bullish Flag /Channels Seen on some charts .........2 examples taken below ...
Will these stay in the range and test lower area or breakout in coming weeks.... Difficult to say but act on confirmatory moves.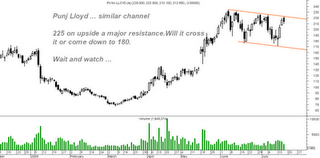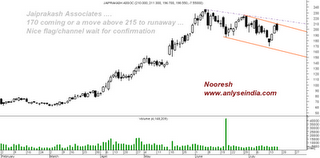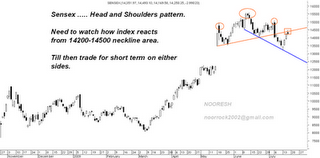 Sensex Technical View :
The neckline creating a problem with a doji being formed around it. But it still is not conlusive unless it starts closing below 13900 or above 14800. So wait for a few sessions then to pre-empt and continue with quick trades on specific stocks.
We expect the action would now shift to stock specific moves which would be variant with some stocks dipping whereas others sharply running up.
Stocks to watchout for :
Acc did 832 but could not stay higher. TCS stable heading to 435. ITC continues to be the next defensive pick for days to come.
Hero Honda and Maruti on new highs as expected giving a small trading chance.
Small Cap stock --
IFGL refractories
The stock was earlier covered at 18-21 levels which went up to 35 giving good gains. Small exposure can be taken at 18-20 with a view to add on further declines to 16 levels with a 2-3 mth view and tgt of 24/28.
Do ur own research.
PLAGIARISM !!!
We did use a lot of CTRL-C and CTRL-V all through college and thats what i see lot many bloggers, writers doing with the analysis posted on this BLOG.
The content on the blog is being plagiarised in different manners on blogs, networking sites some of which was pointed out by some readers. Although there is nothing wrong with it till you pass on the credits 🙂
Only thing which surprised me is some people take quite a lot of effort to erase NAME and e-mail ids from the chart using paint tools 🙂
Anyways there have been 1000 + posts and 500-600 charts posted on the blog but we have hardly had comments !! suggestions 🙂 .... ...........
Also if you like the stuff on the blog Do pass the link / recommend the services to others related to the stock market ................Spam your contact list simply 🙂
PLANNING TO CONDUCT SESSIONS IN DELHI /BANGLORE/CHENNAI in next 3-4 months. ALL THE INTERESTED PEOPLE MAIL TO analyseindia@gmail.com so that WE CAN SCHEDULE ACCORDINGLY.
MONTHLY QUICKGAINS PLUS SERVICE now at 2975 Rs only ................Mail to analyseindia@gmail.com for payment details.www.analyseindia.com for more services.
Best Regards,
Nooresh