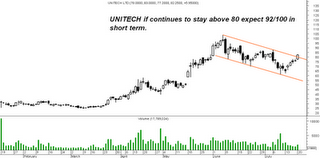 Unitech
A nice channel breakout can target 92/100 in short term if volumes increase can be quicker.
( Disclosure : adviced to clients at 77-76 )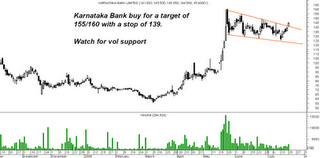 Karnataka Bank : Looks good for short term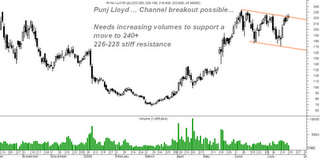 Punj Lloyd Channel breakout ?? lets c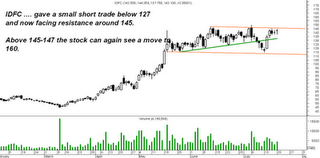 IDFC 145-148 resistance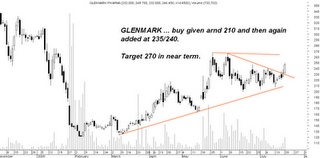 Glenmark giving nice opportunity, Buy call at 210/235/240 to our advisory members.
Sensex Technical View :
As shown with many charts head and shoulders trap is done with and the uptrend is back in full force but is now a lil overbought but it can remain so for a long time so till we dont get stopped out on trailing stops or see turnaround signal would prefer to ride the rally tilll it goes .
Sensex important resistance levels are now at 15600/16050 on upside and downside 14500-14800.
Maintain my stance that action would now shift to broader segment with stock specific moves !!
Stocks to watchout for :
BEL , Infosys rocked ... Maruti Hero Honda on new highs ....
Keep strict stoplosses of 3-4% in short term trades.
Jindal Steel and Power if stays above 2710 can cross 2850/3000 in short term.
Prakash Inds if stays above 122-124 can see a quick move to 140.
ICICI after giving a breakdown to sub 600 levels has reversed back sharply and crossed recent tops and positioning up for a move to 825/890 also.
BRITANNIA , GILLETE and Godrej Consummables are nice bets for a defensive portfolio which can yield 10-20% returns over next 3 months. Accumulate.
LAST 2 WEEKS SINCE BUDGET DID SEEM A LOT DIFFICULT TO EVERYONE ---- But in our client trades it was a mix of both short and long. ( will send detailed report at end of month as our ritual ) ( do check our consistent performance for last 4 mths posted )
GTL infra 31-32 entry and now at 35 booked half.
Elecon Engineering Entry around 60-62 booked part at 75 holding for tgt 90.
IDFC sell around 127 covered at 120-121.
HCC 98 to 104 small trade
TV 18 entry at 93/84 and booked at 95/ 100.
Jaiprakash Associates sell at 189 booked at 174
Glenmark 210 to 230 trade and re-entry at 235/240
Century Textiles sell at 360 covered at 343
TCS 404 to 417 and MTNL 88 to 95 small quick trades
Opto circuits 135 to 150.
Jaiprakash associates sell around 207 covered at 199.
Jaiprakash associates 212 entry exit at 219.
Maruti 1130 to 1190
ITC 217 to 228-232
DCB 31 to 35
Satyam 80 to 90 part booking and still holding !!
2-3 stops hit in SBI of 30 bucks, ICICI 10-15 bucks, Aptech 10 rs ( only for budget speculators )
Might have missed some of the small trades or negligible profit trades.
And lot more like Unitech , Glenmark , BEL , GAIL India Cements which are recent ones which are already going strong.
All such calls now available at 15% discount till 31st July. For different plans check www.analyseindia.com or mail to analyseindia@gmail.com else call Nooresh 09819225396 ( after market hours only )
Best Regards,
Nooresh
09819225396