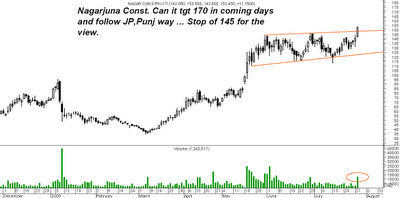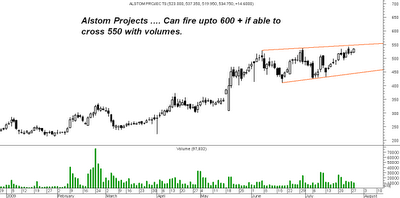 Sensex Technical View ;
Sensex has been a very small range for last 3-4 sessions indicating a pause before it decides its next move. On the upside there are exact tops at 15463 and on bottom side 15220-15240 for last 2 sessions.
15150/14750 are support levels below which i would get cautious on the index. A move beyond 15600 would take us to 16050.
Simple strategy is be stock specific and STRICT with stoplosses. If hit be ready to get to CASH position simple 🙂
Stocks to watchout for :
Nagarconst , Alstom charts posted
Unitech 80 to 98 rocked !! , Welspun 205/211 to 230 !! , NTPC 220 ! .. .......... Many more trades in our advisory service though 🙂
Neyvyeli stop 130. Compact 59-60.Henkel hold. Madras only on sustained closing. Renuka crosses and shoots up ( Renuka at 120 and Balrampur at 90 recommended to clients )
I-Flex buy with a stop of 1345 for a tgt of 1480-1550 only for quick and lion hearted traders. Nice lil breakout on charts.
Astra Zeneca Pharma and Abbott are 2 pharma stocks which are illiquid but seeing more volumes but difficult to trade so just a watch.
Sterlite Inds if able to cross and stay above 672 can touch
695-710 in short term. Quick traders can keep a watch.
Nitin Fire and Mahindra Lifespaces is what traders can watch for volume increase or breakout.
Analyse India is pleased to present a seminar on 'SENSEX – the next MULTIBAGGER' …a technical view. Also get an opportunity to learn a few tricks of the trade.
Venue:
Hotel Karl Residency
Lalubhai Park, Andheri – w, Mumbai – 58.
Date: Sunday, August 09, 2009
Time: 6:30 p.m.
Fees: Rs.500 only
Limited Seats, registrations on first come, first served basis.
For registration/payment mail to analyseindia@gmail.com
Call:
Asif 09833666151
Nooresh 09819225396 ( after mkt hours only )