Neyvyeli Lignite headed to 145 keep a stop of 128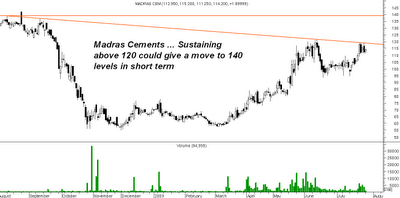 Madras Cements a possible cup and handle if breaks above 120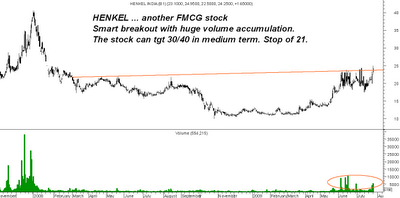 Henkel India : Yet another pick from the FMCG segment which has seen good volume built up and might head to 30/40 over the medium to long term !! Keep a stop of 21.
Sensex Technical View :
The upmove on the index seems to be stalling in the range of 15300-15600 and it clearly needs to surpass 15600 to erase all the doubts and caution. Traders should continue to keep strict stoplosses as the price rise is slower in time and moves getting smaller which is indication of the momentum reducing.
14750/15100 are support levels which would be stoplosses for aggressive traders for near term. The index is yet not convincing but there are some good formations in specific stocks which possibly suggests the action may shift to broader market with index being in a small range.
Being cautious is always bettter and conserving gains is as important as making profits 🙂
Stocks to watchout for :
NTPC 208,Welspun 204 stops , Compact Disc 59-60 stop on closing basis. United Phosphorous continue to trail.
Kotak Mahindra above 680 could give a trading move to 700
BHEL good amount of resistance at 2300. A move above could help the index.
Ganesh Housing and Praj Inds look good for short term moves of 10-20% .Keep a stop of 4% below todays closing.
Small cap stocks :
This is high risk high return stocks so take care !! Fundamentals just about ok
Camson Bio mentioned has been on ckts for past few sessions ...
Om Metals and Kinetic Motors could be surprise movers of the coming months ! ... only for risk takers.
FMCG Stocks !!! Defensives !!
In the last 2-3 months have been consistently mentioning the importance of having FMCG and defensive picks in the portfolio and also for short term trading
All the above stocks have given a return of 15-30% in 3-4 weeks !!!! .... So should we call them defensives ----
It all depends on TECHNICAL TIMING 🙂
New picks Henkel and Emami .... both up marginally
Best Regards,
Nooresh
09819225396 ( after market hours )