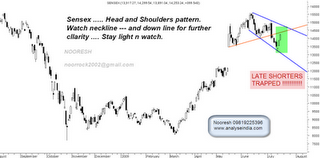 Ohh yess ...................HNS waala aadmi mar gaya ... The obituary will be posted on crossover above 15100.
Before i start my view a simple thumb rule says a big move in markets dont come with an Invitation !! If u feel so then be ready for an obituary soon.
Sensex Technical View :
The HNS pattern has last string of hope at 15100 though it was never completed as i have said below a confirmation comes only after a re-test and then drop. Havent got enough time for a new chart but just posting a chart above.
If u see the blue lines is what we were looking at for how index reacts from ! So we are right there and now we will watch the index but look for stock specific moves ( nice client trades last week ).
Now i do expect many analysts to turn towards the BULLISH flag as shown on the chart above through blue Lines... Well yet again got to wait for confirmation out of it and a sustaining move with larger volumes or else index may do nuthin around 15k but stocks WOULD ....
So simply put focus on stock specific .
Stocks to watchout for :
Bharat Electric a classical flag seen here. Watch for 1450-1465 levels for a breakout.
Infosys seems to have broken out above 1850 and can head to 2k also technically if continues to sstay above 1830.
Crompton Greaves, Jp Associates, Punj Lloyd , IDFC . Jindal Steel and Power and many such stocks are near resistance levels and needs to be seen whether they can give a breakout and move away. Charts later in the week.
Trades if any should ideally be on follow up moves in the days to come so not much after a hectic weekend .
PLANNING TO CONDUCT SESSIONS IN DELHI /BANGLORE/CHENNAI in next 3-4 months. ALL THE INTERESTED PEOPLE MAIL TO analyseindia@gmail.com so that WE CAN SCHEDULE ACCORDINGLY.
MONTHLY QUICKGAINS PLUS SERVICE now at 2975 Rs only till 31st July................Mail to analyseindia@gmail.com for payment details.www.analyseindia.com for more services ( 15% discount on )

.
Best Regards,
Nooresh