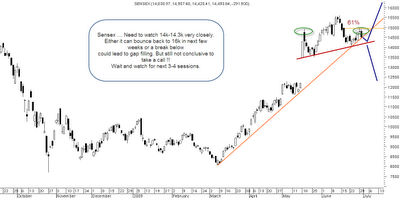 Sensex Technical View :
There is a lot of technical speculation amongst market-men and analysts.
-- > Some are speculating a possible head and shoulders in the making. But a HnS pattern is a reactive pattern which doesnt come into picture till the neckline is not broken. Otherwise every other pattern may seem a HnS ! As of now one needs to wait for a clean breakdown below 14k levels shown by the red line on closing basis.
-- > Such a breakdown below the red line would point to a possible gap filling also.Supports are placed at 13500/12300.
-- > The other possibility is the index holds above 14k and moves back creating a high abov 15600 which could be closer to 16050-16200 also.
-- > Any upmove beyond 16200 on closing basis would mean a highly euphoric move ! ... Ideally a move to 16k should be used to again generate cash.
Conclusions :
-- > The view was to deploy some cash at 14k-14.3k which has given small returns but keep a strict stoploss of 13800-14k. If stays below get back to cash again.
-- > Any move to 16050-16200 would be more stock specific and investors should also look profits if such a scenario opens up.
-- > As of now stopped out on short term trades so wait and watch for now ! Volatility will be high as external voices may impact more.
Stocks to watchout for :
The unexpected dip today has hit quite a few stoplosses in the near term. BOB ,Welspun stop hit after a move in morning which did not get follow up buying. Strides, Patni prefer to exit and just watch for now.
Dabur,Nestle defensive pick moving sharply as expected. Keeping a stable portfolio helps:)
No stock calls for now as volatility may hit on but just a few technical levels on specific stocks.
DLF
Stock is seeing support around 300-305 range in the last few weeks. closing below those levels could lead to selling pressure taking it to 270-285 also.
Shriram Transport
Generally an illiquid counter has seen good volume built up. Sustained move above 315 needed to trigger further upmove to 350+.
Suzlon
Support around 95-99 zone which should hold up for now. Risky traders can buy in that range with 3 % stop tgt 10%
Tata Steel
Short term range of 380-415. Any move below 378 could lead to 360 similarly above 415 could tgt 440.
Do your own research and take exposures with a strict stoploss as volatility is got to increase in coming days. Reduce trading volumes !
In the next one week we are planning to launch a lot of new schemes, courses and more which would suit different sets of traders/investors/analysts. Henceforth please mail in your doubts/queries to analyseindia@gmail.com
People who would like to be updated via sms /email about further schemes courses planned in their city mail to analyseindia@gmail.com
Best Regards,
Nooresh
09819225396