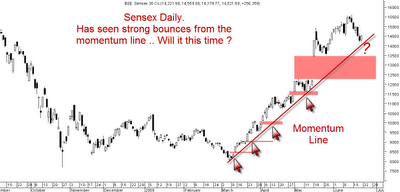 Sensex Technical View :
- > This is in continuation of the previous chart which i had posted about the momentum line and ever since 8k-10k and this trend line has not been broken. So simply put the medium term trend remains up as of now.
- > Its been observed in the last few months that after hitting the momentum line the index has crossed the recent highs and also with a sharper move.
- > So we need to see how it pans out from 13800-14200. The index can give a good pullback to 14900-15100 also but the most important thing to note is whether it is able to cross 15600 or not and continue with the pattern.
- > If it does then we may also head to 16050-16200. If it doesnt then one needs to be very cautious and skeptical in the short term.
- > There is more to discuss did quite a bit of it in the webinar on the above chart. Little tired on sunday for now so in simpler terms the view remains to keep a short term view and trade strict with discipline.
We had a 1 hr -1hr 15 mins simple webinar today.
Register yourself on www.wiziq.com and then click the link below to watch the recording.
Do send us your feedback about the same on analyseindia@gmail.com . This was a first trial run so needs lot of improvement.
Stocks to watchout for :
ITC
The stock was covered earlier at 185 and did give a small move to 200. Yet again the stock is well placed in a range. If the stock starts staying above it could ove the defensive upmove like HUL and Cipla ( both were covered some time back). Investors can add on dips with 180 stop. Traders look for a move beyond.
Will just paste yesterdays write-up as nothing much apart from extreme short term trades which are initiated in the day ( sent to clients ).
TECHNICAL ANALYSIS SESSION
( the course is meant to make you independent and be able to analyse in the simple manner as i do.)
Interested participants can contact as early as possible to confirm your seat - 09819225396.