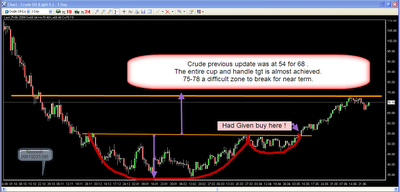 Crude Current View :
The last update was around 54 giving a target of 68 in short term. The move has almost achieved the cup and handle target ( 34-54 =20 dollars ) ( 54+ 20 = 74 )
It would be difficult for crude to cross 75-78. A move beyond 78 would be very surprising and could actually lead to a further pull up though i dont expect it in the near future.
After moving up in a steady up channel the upmove seems to have stalled and now may find a range between 8200-8600.
A move on either side could decide the next trend.
Gold seems may stay ranged in 905-965 for the near term. Above 945 may see aa 20-30 $ move in short term.
Its been quite a long time since i updated on Crude, Gold and Dow.I dont update much on the above indices or commodities as these instruments are not what i advise on neither do have many readers trading the same.
The next update would be when i see a major change on the above charts.