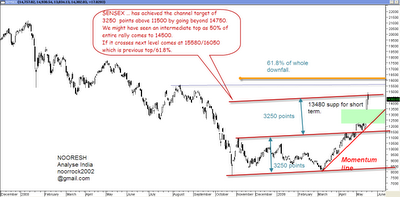 Sensex Technical View :
In a channel breakout we do see the targets being achieved in almost half the time of more the time it stays in the channel. Now what has happened is the gap away action has done the target in less than a month. 
Some observations :
The channel shown in red was almost 3250 points 8047 -11500 or 7700-10945.Close above 11500 pointed to a target of 11500 + 3250 which is equal to 14750 approx.
As discussed in our detailed view many times 14500 is 50% retracement of the entire downfall from 21k-8k. An exaggerated move should not cross 61.8% level which comes to 16050 approx. 
Sensex has knocked largest volume since Jan 2008. Also to note that delivery volumes in todays trades are very high in many stocks. This indicates stock has changed hands which can either be distribution or huge buying by FIIs. Will be clear in next few weeks. 
Technically we might have seen a short term top or coming very close to it.  If 14930 is crossed convincingly then we may see a spike to 15580/16050 ( lowest probability).
On the short term gap at 13480 becomes a support to watch for in short term. For Nifty ( as per futures ) gap comes around 4050. So a new range maybe formed for the next few sessions 13480-14930 which if broken may lead to gap filling. 
Large cap stocks like LnT,RIL,BHEL,BOB,PNB and others have over done the move and Investors stuck from higher levels should reduce exposure to the same and get back on 15% dips to reduce acquisition costs or shift to strong mid caps. 
Stocks to watchout for :
Bank of Baroda and Punjab National Bank seems to have over run the move and have come close to January highs . This can be attributed to short covering. High risk players can short at 450/475 with a stop of 485 and 690/720 with a stop of 735 for a downside of 10-25% in both the stocks. 
Even Stocks like LnT BHEL RIL etc seem to have over-done the move and those who are feeling left out of the rally should not concentrade on small cap and mid cap segment as thats the broader market which still looks very attractive. 
Dishman Pharma, Time Techno shoots up. Remain bullish on Agro tech , Kirl Oil , Patel Int, IFGL,Aurion Pro with medium term view. SCI remain bullish and can be added again on dips to 100. 
Low risk  Investors who would like to park their money in safe stocks should look towards BOSCH , TIDE WATER , ATLAS COPCO on declines. 
AVAYA GLOBAL - cmp 103.
The stock looks good for a bounce of 20-30% in short term technically. Also looks decent on fundamentals but needs further look. do your research before taking exposure. Can buy at 103/94 with a tgt of 115-125 in short term. 
Mail to noorrock2002@gmail.com to arrange a session in your city. 
Best Regards,
Nooresh 
09819225396 ( aftr mkt hours )