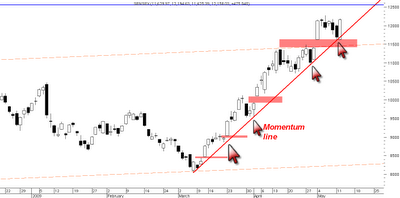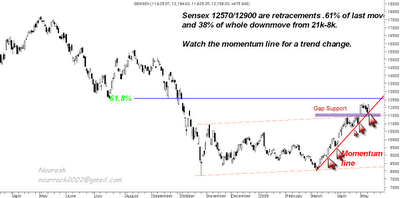 Sensex Technical View:
Some observations :
-- > Gap support at 11635-11430 was not broken today with a low of 11621 /11625 in the last two sessions. 
-- > Since the bottom at 8k the momentum trendline has been supporting all dips. We have noticed around 4-5 instances where it has kissed the line and bounced back sharply.
-- > The bounce back has generally crossed the recent highs and made a move of the range size. 10715-11300/500 saw a move to 12272 which is almost 600-800 points range.
--- > Current range is around 11625-12272 which if broken points to another 600 points move in case 12300 is taken of. This level also coincides with 12900 which is the 38.2% fibo level. So upside could be 12900 + - 150 points. 
-- > A move below 11600 and the trendline would have severe negative implications as then we may retrace back almost 50% of the entire upmove from 8k-12.3k. 
-- > If we see the charts closely every such move has been followed by a gap-up above the previous highs. So in case that happens the gap levels would become the stoploss.
-- > We have seen almost 4-5 instances of support from the momentum line any more attempts to stick to the line may turn to be fatal and disastrous also so be extremely cautious if indices go below the line. 
In simple terms 11600 and 12300 are support and resistance zones which if crossed convincingly would decide the next 500-800 point move but the technical setup also suggests it would yet again be difficult to trade it. The trend is still up so the probabilities of 12900 seem to be higher ( maybe market knows the result). 
Option traders can look for some strategies like strangle,straddles only concern is the pricing is too high as of now. 
External Observations :
The elections would be the next big consideration which may hit the markets with a lot of uncertainty. I wont try to decipher the sentiment change in all the possibilities of NDA UPA third front and juggling. 
Simple observations are a 5-8 %  move up or a5-8 % downmove  if markets see a possibility of a stable and lasting government or a huge alliance which can crumble before it forms. 
On the other hand its also possible that markets might have discounted the possibility of a favorable result and may do nothing. 
The best thing to do is do nothing !!! Stick to the part of the investment holding done at extremely low levels and be ready to look for fresh opportunities. 
Volatility may remain extremely high so traders should keeep very low volumes. Be very careful in the next 8-10 sessions.
Mkt buzz is a good enough gap-up action may be seen on thursday itself after exit polls which are tilting towards a favorable result which will set the tone for next week as well..... Just a buzz not a tech view 🙂 
Stocks to watchout for :
FORTIS HEALTH 
The stock has broken out on short term charts. Traders can take an exposure at 76 with a stop of 71 tgt 90 on closing basis. Investors can also take part of the exposure with a long term view. 
Some trades only for next 1-3 sessions and take care or avoid if you are not game with risk and volatility 
INDIA Infoline buy above 93 stop of 90 tgt 100 +
HDFC Bank above 1210 stop of 1180 tgt 1250+
BOmbay Dyeing above 215 stop of 210 tgt 225  +
Transport Corp above 54.3 stop of 51.5 tgt 58.
Small caps which can move up Ashapura , Hercules Hoists. 
Bharti Airtel, RIL, PNB , Axis , Maruti are few large caps which have broken out above recent highs and could propel the sensex higher.
Best Regards,
Nooresh 09819225396