Sensex Technical View :
The technical view posted a few days back had clearly mentioned about a possibility of a gap up action above 12300. This was based on the observation that after a touch down to the momentum line Sensex has broke out above the recent highs/range by a gap-up action. Click on chart below.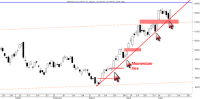 So ideally from here the opening gap up low would be an important level to watch from here and 12300 could be the important support. 
The range for now was 11272-11620 which points to a minimum target price of 12925. So we might see a good resistance around in this zone. 
On the medium term basis ever since 9k-10k levels the view has been bang on and crystal clear that this upmove should go to 38/50% of the entire downmove. The levels for the same 12900/14500 and a max to max 15800 ( 61%) which should be reached in the 12-14 months equivalent to the entire downfall period. 
We might be close to achieving 12900 and 14500 is the next level but there is a very good possibility that we see a decent dip !! after crossing 12900 or a lot of pressure around this area. A technical confirmation of the dip comes only on breakout of the momentum line. 
Stocks to watchout for :
ABAN LLOYD and CENTURY textiles mentioned as performers for the day. Aban rocked 20% ++ but century did a decent  3-5% move.
BLUE Start pyramiding investment pick from 180 does 225 !! Look to book out at 240 half the qty and hold rest for long term.
I wont make a bet on policy triggers or election impact stocks as i have not enough info  or will to analyze the same in extreme detail. Some of the particular stocks looking good technically are discussed below.
Central Bank of India 
The stock has given a breakout above 50 levels expect it to cross 60 in coming days. Buy closer to 53 for a short term trade. 
SCI 
The stock has been ranged between 70-100 in the last few months. Sustaining above 100 for a few sessions should give a move to 114/130 in short to medium term. Accumulate 
Alstom projects 
Possible fresh breakout above 365 should target 395/450 in medium term. Buy above 365 and keep position to add on dips also for the tgts. 
Power Grid,PFC ,Areva TnD look good on charts for a strong upmove and possible election impact also. Small PSU Banks like Vijaya, Dena and others could see action alongwith Neyveli Lignite,MRPL or some PSUs. Just a view no detailed idea here. 
The current upmove on Monday would be backed by large caps and a possible new range on the index in coming sessions. Traders shoud take care and not be get euphoric with sentiments and be extremely stock specific as gains would now depend on stock selection. 
Just a gut feeling after the euphoria this week we may see lot of midcaps/small caps which have been on low valuations may see huge moves. There is still a lot of such attractive stocks in the broader segment which have not participated in the rise. 
Earlier in the months of March i did try to elicit fundamental  views on number of mid cap stocks but hardly got any comments. Hope to see more comments on possible stock picks from readers in the comments or mail to noorrock2002@gmail.com 
IFGL refractories, Time Techno, Patel Integrated Logistics , Dishman Pharma,Aurion pro look very much interesting at current levels. !! 
Market Observations and Thoughts :
Will reserver this section for a detailed post in the week but one thing that comes to my mind at possible 13k-14k levels is that lot many large caps have moved up by 100-150% from the lows. Reliance a biggy is only 30-35% down from peak and 100% + from the lows. 
Lot many participants might have increased exposure to equities in this period and will still do on the euphoria by elections. But we need to keep the discipline to avoid the possible risks and surprises.
 In the month of Feb/March though there was uncertainty the strategy to go in a pyramid manner, fundament + technical stock picking in the broader market with adequate research gave us great returns. A large section of market participants feel left out though at times we felt a lot OVERBOUGHt 🙂 till date. 
So yet again we are at a stage to come up with a new strategy to counter possible risks and also create a disciplined pattern of trading/investment. Sensex may possibly reach 12900/14500 on higher side for short to medium term from where there is a good possibility of a time wise/price wise correction. Investors have exposure to MFs./long term portfolio/trading/equity linked plans. 
As an individual investor its time to look into personal exposures and re-shuffle the same. Once we cross 13k the risk-reward on the index may tilt and am looking towards how we could have a HEDGE strategy through index futures,options and other instruments. Will delve more into it in the week. Hope to receive more suggestions !! 
IF U LIKE THE STUFF ON THE BLOG PASS IT TO OTHERS 🙂 
Mail to noorrock2002@gmail.com to arrange a session in your city. 
Best Regards,
Nooresh 
09819225396 ( aftr mkt hours ) 
meraninooresh@yahoo.com 
noorrock2002@gmail.com