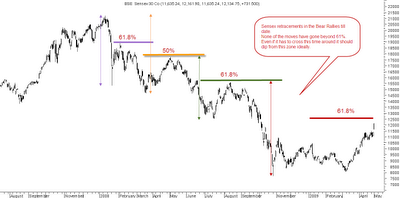 Before we go into the current view please do check the charts posted few days back where i had mentioned that all global indices could see a 7-12% quick move in short term with high volatility. 
All the global indices have given a 5-8 % move already and we may see some more but it can turn to be illusionary so its a tricky scenario. Although the move was expected the trading holidays in India did not give us a good chance to make much out of it. 
Sensex Technical View :
Some observations :
-- > There have been 3-4 bear rallies since the top made around 21k. 
---> As we see from the chart the rallies have not gone beyond 50/61.8% of the last big fall. The current 61 % retracement level comes to 12570 odd.
-- > The 50/61.8% of the entire downfall comes to 12900/14500. As we saw markets take a stopover at 11200-11400 which was 200 dema and next stop should come closer to 12.5k zone. 
-- > After such an upmove of 50% from the lows Sensex does get into overbought zone with lot of negative divergences so the better approach is to be cautious and trade for the day only on long side.
--- > Technically the uptrend still remains strong and its not over till its over so we would wait for some reversal signals around the resistance zones around 12300-12600 as its a fresh breakout and we may still have room for upside.
-- > Continue to trade with the trend and wait for it to change as trying to be early or anticipatory trading has proved fatal ( 6k anticipation screwed lot many bears) 
Stocks to watchout for :
The holidays did us in as we could not pick up on lot many stock specific breakouts with huge gap-ups. 
Max India recommended at 105 with a very long term view has moved up to 145+ which is a good 40% return. Continue to remain bullish in the long run even from these levels but as part of discipline investors should book 25-50% quantity and hold rest with a long term view. 
BOSCH Ltd 
One of the strong multinational companies made a bottom roughly around 2700 and is still quoting around 3000-3070. The stock has not participated in the pullback but lot of volume build-up now. Investors can look to take partial exposure around 2900-3100 zone and wait for further dips. May move up to 3500 + in medium term. Do your own research or home work before positioning urself.
GE Shipping 
Seems a strong breakout in short term. Buy on intra dips to 218-222 or above 226 with a stop of 217 tgt 240 +. 
Welspun above 109 could tgt 115-119 zone stop of 105. Opto circuits above 121 or on dips to 114-115 stop of 110 tgt 128+ . Cairn can be a buy on dips as there is a good possibility of an upmove in crude. 
Keep trading volumes till we get a clear direction as the risk-reward on long side is no more supporting! Also no fresh signals to short positionally yet.
A small column posted in the latest edition of - Money Today magazine. 
Readers can pick up a copy from any news stand or check the
e-magazine 
Best Regards,
Nooresh 09819225396