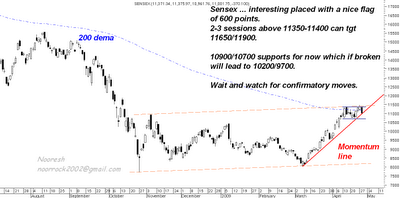 Sensex Technical View :
Sensex continues to be very volatile with no convincing moves on either side of 10700 -11400. 
The momentum trendline is where its taking the support for last few sessions which if broken ( 10900 ) may open up to 10650-10700 break possibilities. Similarly 11400 on upside opens up to 11900 levels. Ideally one shoudl wait for 2-3 sessions or volume supported move to confirm a breakout. 
Wait and watch with a long weekend ahead its better to stay away from positional trades and investors should book partial profits in stocks bought at lower levels to reduce acquisition cost.
Stocks to watchout for :
Lnt did jump to 924 in the morning but could not hold and hit stop later. ONGC close to 830. Others also dint move up. In the last few sessions we did see lot of whipsaws where in stock did breakout but could not sustain but close stops and low volumes strategy might have made it less bad for traders. Even our trades KFA Mundra Lnt, nagar got stopped out but stops were small around 3-5 % and partial booking done at higher levels. 
Currently we are seeing some small range breakdowns in stocks but prefer to take no trades tomorrow with the expiry and a long weekend. Strategy should be to conserve gains made in the last 2 months.
Readers do  put in their comments/suggestions/criticisms on the blog or mail to noorrock2002@gmail.com ...Investors who have asked me for starting new services for small investors also mail us the suggestions about what u want in the services.
Best Regards,
Nooresh 
09819225396