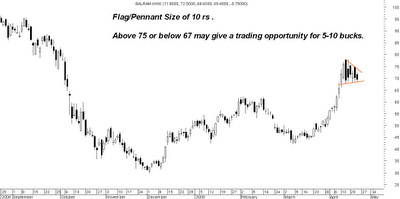 Balrampur Chini :
Good 10 rs flag can give a small trading opportunity. 
Gateway Distriparks : 
The stock had moved up on large volumes all through 60 to 80 +. As per market buzz lot of institutional interest seen in the counter. Pullback to 63-59 zone which is trendline support and fibo retracement. Can take small exposure with a medium term view. May bounce 10-15% and on higher side take a shot at 80 levels again. 
Few more such flags seen in Adani, BGR energy, Agro tech foods , Daawat but cant post all the charts. !