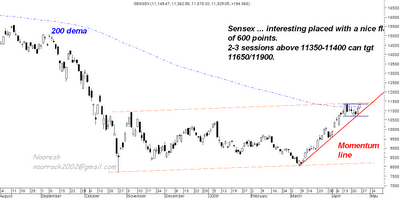 Sensex Technical View :
Sensex bounces back sharply from the momentum trendline which was around 10700 and is now in striking distance of the recent highs of 11370. 
The flag range is almost 600 points which implies 2-3 sessions above 11350-11400 could lead to a similar move. Possible targets 11650/11900.
Lot many global indices are similarly shaped and some have broken above the March 2nd week high ( similar to Sensex 11370 ). A small breakout move  in the week could be witnessed in many global indices. 
The only concern is the no of sessions in the flag are less which is a good scenario for a strong trending market but currently we may still be on the pullback move of the entire downfall from 21k-8k. So one needs to be purely short term in nature as markets have already given a sharp move. 
Stocks to watchout for :
Grasim shoots up. Adani does tgts. Mundra still good chart posted below. TRIL breakout and GDL a pullback move. 
Lot many charts are seeing flag/pennants patterns which if broken could lead to a move similar to the flag size. HDFC Bank , LnT , HDFC Ltd, Reliance Infra and many more in the midcaps. So such a breakout has many options to be traded but keep a strict trading policy of small stops and booking at targets and trailing. 
The flag breakout trades have to be very quick and supported with volumes and in some of the cases we might see whipsaws so be nimble footed. 
Mundra Port , LnT , Kingfisher Airlines technical chart posted and many more do look similar but have discussed only a few out here. 
Technical trackers can check for similar patterns in other stocks  namely Orchid Chemicals , JP associates , Sesa Goa, Ashok leyland  some fertiliser and sugaar stocks....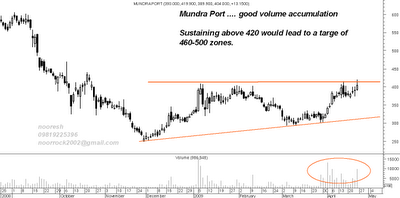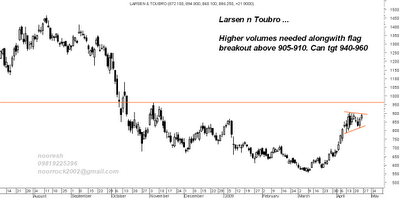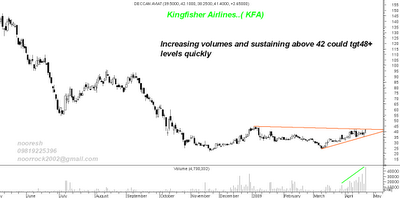 TECHNICAL ANALYSIS TRAINING SESSIONS planned for Bangalore , Hyderabad, Mumbai in next few  months. Conducted for a small group of 6-10 people.
Interested people mail to noorrock2002@gmail.com
so we can schedule for the cities accordingly. 
May 9-10 tentatively scheduled for Mumbai. 
Best Regards,
Nooresh 
09819225396
noorrock2002@gmail.com  , meraninooresh@yahoo.com