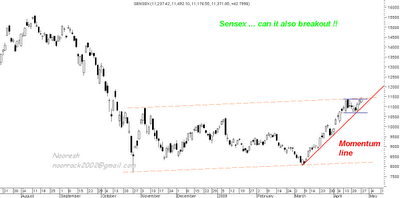 Sensex - 
Forming a flag around the top of channel 
CAC - France also close to top of channel 
Dow Jones - Clear channel and sideways flag ... 
Observations :
As we see all world indices have clearly come to the top of the channel and many of them are making flags around this zone. 
Technically a flag breakout is a continuation pattern. Currently we are in an extreme short term uptrend so a breakout above the highs of the last few weeks may lead to a smart move.
As its a major channel breakout which is almost a 25-40% would be very difficult to get clearly out of it in the first move. So a breakout from here may also be illusionary but quick with lots of volatility and investors should be out of their holdings in this period then to try trade it ( nimble footed traders can definitely use it ) 
Possibly we could see a quick move with volatility which may be equivalent to the size of flag which is around 7-12 % in log basis. The consolidation in the flag has not lasted many sessions so a breakout move has to be very choppy and volatile. 
Continue to watch the lower line of the flags or short term lows for a trend change! in coming days or to keep trailing stops closer to those momentum/flag lines.