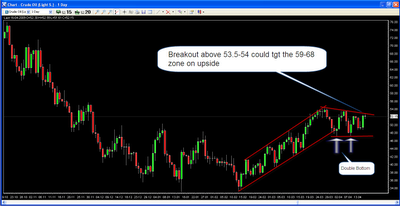 Crude Technical View :
A bullish flag pattern being seen on the daily charts. Sustained move above 53.5-54 would imply a quick move to 59-68. 
Double bottom around 47 levels also shown on the chart. A close below those levels would negate the view and may lead to bearish implications. 
Dow Jones Technical View :
In the last update i had reservations about the move being able to cross 7600 ( 61.8 % ) levels and going towards the upper end of the channel. Since the index crossed 7600 the next technical target comes to the channel top at 8300-8550 roughly. Till it holds 7700 levels we can expect a test of the upper channel in short term.
Once the index reaches those levels one needs to be cautious over the world markets. 
Gold weakness continues to remain with it hovering around the 880 mark. Lets c if it can convincingly break 865-885 zone and the next target would be 845/810. Upsides would face resistance at 905/920.
TECHNICAL ANALYSIS TRAINING SESSIONS planned for Bangalore , Hyderabad, Mumbai in next few  months. Conducted for a small group of 6-10 people. Interested people mail to noorrock2002@gmail.com so we can schedule for the cities accordingly. 
Best Regards,
Nooresh 
09819225396
noorrock2002@gmail.com  , meraninooresh@yahoo.com