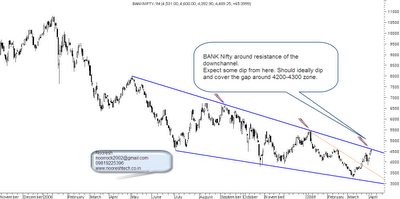 Sensex Technical View :
Sensex finally slows down in the upmove and good it has as the markets have moved up considerably in the short term and needs a breather.
The near most gap around 9921-10107 should ideally get filled or support around 10100 levels in coming days.
Support level to watch for short term is 9520-9540 which was the recent low. 
Continue to wait and watch on the index and look for stock specific moves. 
Bank Nifty View and Chart posted. 
Stocks to watchout for :
GE shipping does tgt 205. SCI slow but positive.Mcdowells hits stoploss. Continue to remain bullish on welspun,zee and ks oils as surprise performers. 
Expect selling pressure in Banks mainly Axis ICICI and SBI as all of them have come to channel resistances just like Bank Nifty. Short traders can take a bet with a stop of mondays high price or according to intra movements or take puts. 
IDEA 
The stock continues to stay strong around the 49-53 zone but has not seen some buying emerge to take it higher. Watch for higher volumes and momentum above 54 levels for a quick trade to 58+.
Glenmark 
The stock has given a breakout and can be a good trading bet on dips to 170 or lower. 
Rest we would prefer to wait and watch as its a vacation week with 2 holidays and another in next week. 
TECHNICAL ANALYSIS SESSION MUMBAI --- APRIL 11-12 
Interested people CALL - 0981922539 Nooresh for more details/queries /confirmations and more. ( aftr mkt hours ). 
Best Regards,
Nooresh 
noorrock2002@gmail.com 
09819225396
nooreshtech@yahoo.com / meraninooresh@yahoo.com