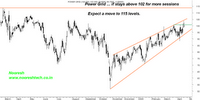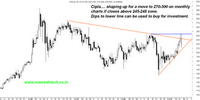 Charts for Power Grid and Cipla
Sensex Technical View :
Yet again Sensex holds above 10700 and stages a pullback rally in the day. Such moves may not have been very beneficial to long traders but lot many intra-shorts being trapped. 
For a lil more detailed view check yesterdays post. For now its simple 10650-10700 on downside and 11300 on upside is the range if its breaks out then expect 500-600 point move on either side. 
Stocks to watchout for :
Remain bullish on power grid (chart posted above ), ICICI Bank drops to 400, Spicejet bullish 
HDFC Bank 
The only heavy banking stock which dint take a hit today. The current range is 1040-1120. A break above 1120 would give a quick move to 1160-1210. 
Bharti Airtel :
The stock is moving out of the downward channel Can be bought around 710 levels with a stop of 690 tgt 740-755 in short term.
Small caps for next few sessions which can see some moves. Keep a strict stop of 5%.Mind it its risky with such stocks as volatility is high!Do ur own research.
Grauer and Weil 
Hanung Toys 
Philips Carbon 
RETURNS OF 12% in trading calls for March 2009 
TECHNICAL ANALYSIS TRAINING SESSIONS planned for Bangalore , Hyderabad, Mumbai in next few  months. Conducted for a small group of 6-10 people. Interested people mail to noorrock2002@gmail.com so we can schedule for the cities accordingly. 
May 9-10 tentatively scheduled for Mumbai. 
Best Regards,
Nooresh 
09819225396
noorrock2002@gmail.com  , meraninooresh@yahoo.com