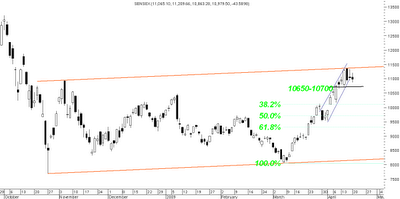 Sensex Technical View :
Previously i had mentioned that 11200-11400 would be a significant zone of resistance at as 200 dema comes arnd 11200 zones. 
As we see from the charts making a parallel channel from last two lows the top comes around the top of the current move. 
Also in the last 4 sessions we have got a breather here. But on a simpler basis lows of the last few sessions is important to give a significant reversal sign. Such a level comes to around 10650-10700 below which one can look for short trades for near term.
The levels to watch on down side would be 38/50% correction levels if we break 10650 convincingly or else we may remain in the sideways loop.
Stocks to watchout for:
Power Grid continues to look bullish add more on dips to 95 zone for short term. 
ICICI Bank 
One of the most volatile banking stocks is ranged between 420-460 for last few sessions. Below 420 may go down to 400-385. Above 460 would be a spike to 490 levels.
HCL Info and Spicejet have seen good volumes in the current move expect a bounce back from 85 and 15.5-16.5 levels to 100 and 20 .
Small Cap Stock for investment -- IFGL refractories looks interesting.Please do ur own research.
RETURNS OF 12% in trading calls for March 2009 
TECHNICAL ANALYSIS TRAINING SESSIONS planned for Bangalore , Hyderabad, Mumbai in next few  months. Conducted for a small group of 6-10 people. Interested people mail to noorrock2002@gmail.com so we can schedule for the cities accordingly. 
May 9-10 tentatively scheduled for Mumbai. 
Best Regards,
Nooresh 
09819225396
noorrock2002@gmail.com  , meraninooresh@yahoo.com