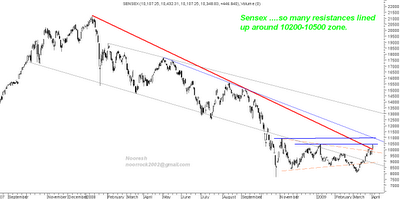 Sensex Technical View :
The upmove in Sensex continues and now is close to the important resistance level of 10500. The chart above shows the resisting trendlines and breakouts. 
In the short term the level of 10500 followd by 10900 are resistances which will stall the move for near term. 
There have been 3 gaps which are unfilled but we also saw 3-4 such gaps in October breakdown so any move which catches the street unawares generally tends to show such pattern. Although there is nothing specific in a gap theory that suggests it shud be filled in an x amount of time but 2-3 gaps in succession do lead to exhaustion. 
We had a big gap on thursday and if we see 1-2 more one should book profits and wait for dips. 
Will discuss More technical points in the week maybe through a video or some way ... will end it here for now. Check elliot pattern charts and gold charts in two posts written in the weekend below this post. 
Stocks to watchout for :
Emco does 40 in quicktime,DCB charges up to 23,FSL a small breakout speculative play.
BEML,Areva did the tgts. Remain bullish on SCI ,Mcdowells. Ge shipping slowly up. 
Speculative stocks- Rcap,HDIL,Ibreal as expected spurted by 10-15% and some more left it seems. Max India is a long long term pick so wont comment on short term moves. 
GMDC looks good if stays above 41 levels for another 10-15 %move up. 
Sterlite Inds buy for the day above 380 stop of 370 tgt 395 +. 
Welspun,K S Oils and Zee could be surprise movers of the next couple of weeks as not much upmoves seen in them.
TECHNICAL ANALYSIS SESSION MUMBAI --- APRIL 11-12 
Interested people CALL - 0981922539 Nooresh for more details/queries /confirmations and more. ( aftr mkt hours ). 
Best Regards,
Nooresh 
noorrock2002@gmail.com 
09819225396
nooreshtech@yahoo.com / meraninooresh@yahoo.com