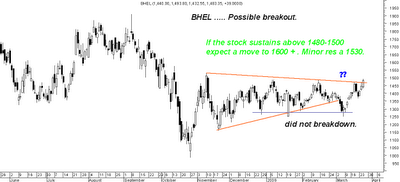 Stocks to watchout for :
ABB moves up and continues to look good for more, Siemens could inch up after a small dip. 
BHEL 
The stock has been gyrating between 1250-1500 in the last few months. Yet again its coming close to a breakout above 1480-1500 zone which if crossed and sustained it may well go byond 1600 + . 
DLF 
A rough range of 160-180 is what the stock is moving around in. If stays above 180 expect a 20 rs jump up and below 160 a 20 rs down move. Traders favorite keep watch. 
Small cap stocks which have been consolidating sideways and can see quick moves if volumes increase. not much time for stock specific levels. 
Orbit corp 
Praj Inds 
GNFC  ... ( hold reco earlier ) 
IVRCL 
Lanco Infra. 
PLANNING A SESSION FOR BANGLORE INTEREStED PEOPLE MAIL TO noorrock2002@gmail.com. 
For details and queries call up after market hours. 
Best Regards,
Nooresh 
09819225396