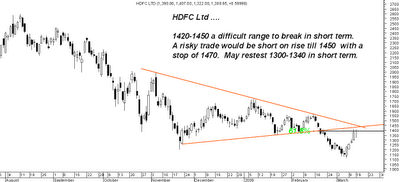 The last time this stock was covered on breakdown below 1350 --
CLICK HERE
A sharp bounce back came from the lows and is now back to re-testing the breakdown line. The current fibo retracement of 61.8% is done and the trendline resistances are placed around 1420-1450 zone. A possible trade would be short on rise till 1450 with a stop of 1470 on sustaining for some time or closing basis.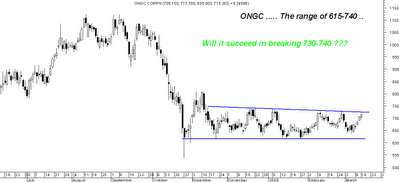 The stock has been stuck between 61-740 for the last so many months. Will it cross 730-740 range this time with volumes... This could be a tirgger for the index too.
Cairn moved up frm 165 zone to 170 still a hold. Bharti has come to 570+ stop would be 595 positional for shorts.NTPC could not stay below 168 so wait. Infosys made an intra dip but is around 1300 stop is 1330. Jaiprakash moved up whereas Jindal steel flat. 
TVS motors seems to be the next mover in the auto segment.  A small breakout on charts can tgt 25 odd in short term buy on dips to 20.5-21.2 with a stop of 20. 
India Cements could give a small bounce to 110-112. Risky traders can look to buy above 105. 
 Market Observations and Thoughts :
Edserve moves to 145 + on listing day and comes down to 40 in a few days... How long can this IPO fooling keep happening 🙂 ... Hope small investors have become more aware after the resurgere etc. 
Everonn Systems surges 45 % in a day on back of 3% delivery trades. Was it some investor interest on pure punting :). 
Continue to be carefull in wild moves as preserving capital is more important now as even small cash of portfolio may give good returns in long term from current situation provided u keep it safe 🙂 
Akruti City hits a new high of 1400 ++.. Is it a short squeeze ? FNO curbs aiding it ... Watever it is there is something fishy with delivery volumes of less then 5% today 🙂 . The stock has a market cap more then the sum total of 3-5 decent real estate developer stocks. So all one can do is avoid or take care when punting in such stocks...