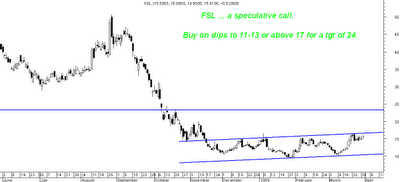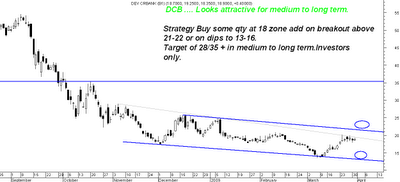 After a long time making a post on long term investment into small and mid cap stocks for long term investment. Have selected only a few stocks out here which have over-corrected and look reasonably valued. 
Strategy would be to buy 25-40% quantity at 1st buy level and rest slowly at the lower buy zone or on a breakout over short term resistances. 
Book partial profits on first tgt or on 30% gains to reduce acquisition cost. 
DCB :
The stock made a high of 162 in the bull run and against an issue price of 26-28 the stock is now quoting around 18-19 bucks and 52 week low of 13.55. 
So the stock is available at 10-12% of peak and is fundamentally decent and can give good returns in better times. 
Buy around 18-19 initial quantity.
Add if crosses 22 zone or on dips to 13-16 zone in panics. 
Tgts 28/35+ 
Short term resistance seen at 20 ( grey trendline) as per chart.
Some other stocks similarly 
EMCO transformers. 
The stock made a high of 330 in the previous bull run now quoting at 31 and a 52 week low of 26. 
The stock is available at less then 10% of peak value as well as with a good visibility of earnings as order book is mainly govt based entities. 
Buy arnd 31 initial quantity. 
Add around 26-23 or above 34 levels. 
 Tgt 40/52 +. 
FSL --- A high risk speculative trade. 
As per the technical chart it can give a sharp move above 16.5-17 rs to a tgt of 24.
Investment buy on dips to 10-13 the inital quantity and rest at further dips or on breakout. 
One of the stocks we recommended to clients similarly is PSL Limited which moved up from 65 to 85-90 where partial booking done and may re-enter on dips again. 
Other stocks which am looking at in a similar manner :
STC India, Kirloskar Brothers, Patel Engg, Himadri Chemicals,Elecon Engg,  city Union Bank,Mercator Lines and some more. Need to short list as options are many.
Readers if tracking the above stock please put in your comments/reports/reviews on the blog or mail to noorrock2002@gmail.com 
Best Regards,
Nooresh 
09819225396