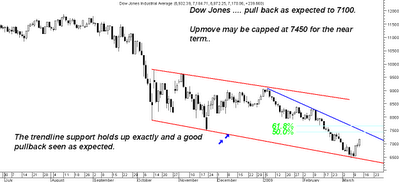 Dow Jones 

Dow Jones Technical View :
In the last update had discussed about a good pullback on Dow Jones could target 6900-7100 and 7450 on the upside. 

The pullback has been sharp just like any bear move which has done the minimum pullback of 6900-7100. The upmove may face major resistance around the 7450 ( 50%  ) zone. So the short term upside is capped around 7450 and can reverse even before that. 
The indicators did show a good positive divergence around the 6500 mark which meant a pullback was due even though it may or may not be a good short term bottom.
Sensex 
Sensex Technical View :
A strong move after a meek reversal was surprising on the index but this is how bear upmoves are supposed to be. The move has crossed the level of 8630 ( previous lows ) comfortably which indicates quite a good amount of short covering to be a reason.
Technically after a breakdown from a long sideways or triangle formation there is generally a re-test of the breakdown line. The orange line shown on the chart shows that. The level roughly comes around 8850-8950. If the upmove doesnot stay above this level or doesnt cross the down channel ( blue ) would imply the downtrend continues to be strong. 
Fibonacci retracement comes around 8950 and 9100 odd zone. 50/61.8 %. The upmove has created 2 gap-up moves in near term and another one might lead to exhaustion ( can be shorted generally for day trade). Gap levels 8440/8260 may be support zones then. 
So in the near term would face resistance in the 8850-8950 band ( fibo+ line ) and 9100-9200 ( fibo. 
For queries and more readers can add me on Yahoo Messenger ID will be in online mode when possible to chat-- nooreshtech