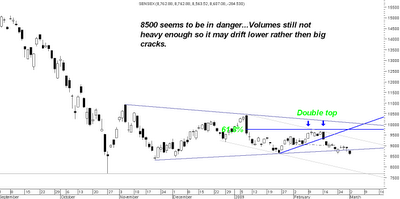 Sensex Technical View:
The level of 8500 on closing seems to be in danger now as Sensex has dipped below the 8600-8640 level which was holding in the last few dips as seen in the chart. 
On a sustained closing basis 8500 remains important. On the short term 8300/7700 are immediate supports once it starts sustaining below 8600. Will look into long term charts in the coming posts. 
In the last few major sell-offs the volumes were heavier in the index and index heavies but we are not seeing such volumes this time around. Also the price action would be bigger (  %terms ) and in smaller amount of time. This indicates the drift could be slower towards the lower zones till we dont see above observations being met.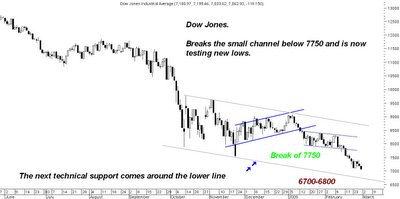 In the last
update
had discussed that a break below 7750 would test the low of 7400 and odd and the next level is around 6700-6900 which is the downwards sloping channel. There should be some recovery from 6700-6800 or little lower then that back to 7k-7.4k roughly. 
On the long term charts sustaining below 6400 there are no meaningful supports technically. The index has lost quite a bit in the last few weeks so bounce is highly probable from the supports. 
Best Regards,
Nooresh 
09819225396
noorrock2002@gmail.com  , meraninooresh@yahoo.com