Mnm does the small way ...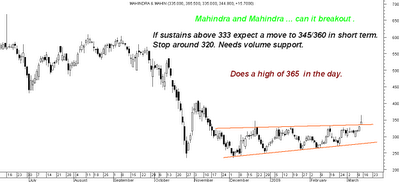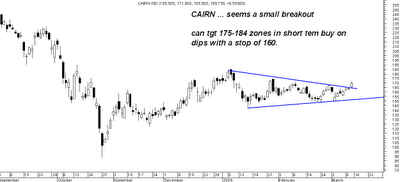 Cairn seems a small breakout on short term charts. The stock can give a small move to 175-184 in short term if continues to hold above 160. Buy on dips to 163-166.
Bharti has given a breakdown on short term charts below 570.Any re-test to those levels can be shorted with a stop of 595 or short on break of 545 for a target of 510 or lower. 
NTPC may be the next stock to crumble under the pressure. If sustains below 168-170 zone can expect it to touch 160-155 zone in quick time.
Infosys has come back to the resistance zone of 1300. Previous tops around 1320-1330 range. A speculative trade would be to short with a stop of 1330.
Jindal Steel and Power and Jaiprakash associates look set for a small positive move of 5-10 % but difficult to trade though... 
For queries and more readers can add me on Yahoo Messenger ID will be in online mode when possible to chat-- nooreshtech