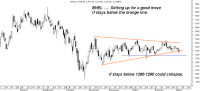 Sensex Technical View :
Sensex continues to remain weak as closes around 8450 yet again. After 3-4 downsessions index may appear a bit oversold but bounces may face resistance at 8750/8950. If it continues to stay below 8500 for few sessions it could well head to 7700 zone also. 
Stocks to watchout for :
BOI and BOB remained weak in the day but can give a bounce coz of RBI but difficult to sustain. 
Cipla crossed 196 and touched 204 almost closer to 205 1st tgt hold with stop of 190. 
BHEL 
The stock has sustained well in the last couple of months irrespective of market conditions but we did see some selling today with volumes. Short term support at 1280-1300 if sustains below that level could collapse to 1150-1200 levels. Click on chart above.
Look to short around 1350 stop of 1375 or below 1315 stop of 1350. 
Many banking stocks like ICICI, AXIS Bank, Kotak Mahindra,SBI  and many other banks are closer to Oct lows and may give a dead cat bounce with the RBI action but prefer to wait for stability in those stocks and avoid buying unless pyramiding with token lot. 
Mahindra and Mahindra 
In the last few months stock has made multiple tops around the 330 zone. So if crosses could give a good 5-10% jump. So buy above 331 for a pop up tgt oof 345-360. 
Have posted a few presentations and reports on different topics in the last couple of weeks.
Listing down the reports and their description 
Regards,
Nooresh 
09819225396
noorrock2002@gmail.com 
For queries and more readers can add me on Yahoo Messenger ID will be in online mode when possible to chat-- nooreshtech