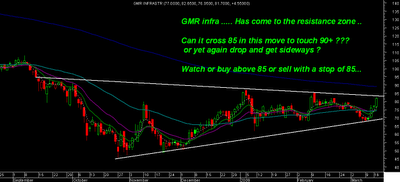 GMR INFRA :
As per the bse announcements promoters continue to increase the stake in the stock. Technically it is yet again close to the resistance zone of 83-85. Will it be able to cross or the current move is only coz of promoter buying is a difficult question to answer. Volumes also are not great enough. 
So would prefer to watch for more clues. Traders who would like to take a trade can either buy above 85 or sell with a stop of 85 odd .... 
Sensex makes a high around 9024 and settles a little lower. Nothing consequential in the day as of now.The resistance on upside remains around 9100-9250. On the downside supports at the gap zones of 8480/8270 roughly. 
Cairn continues to remain bullish for 174/185 in short term. Infy does 1260  ,  TVS motors keep a stop of 20. 
The stock continues to look strong on charts for a tgt of 174/185 . Buy on dips to 165-167 with a stop of 164 for the day tgt 174-178 . 
GMR infra chart posted above ... 
Speculative moves possible in Havells and EKC .. Technical speculation