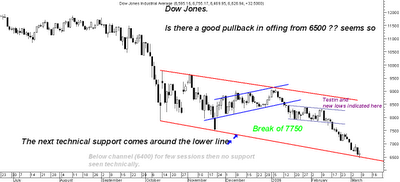 Dow Jones Technical View :
Check previous posts by clicking below.
In the last update had mentioned the channel comes to around 6700 and as its a sloping line the levels keep moving downwards. As we see in the chart the low is very close to the channel zone. 
The index has fallen a good 1500 odd points in past few weeks and has come to the technical target zone ( Channel shown in chart ). 
Ideally there should be a good pullback from this zones.Break of 6400 on sustaining basis may lead to panic as technically next supports are way below.
Pullback targets could be 6900-7100 and 7450 on higher side.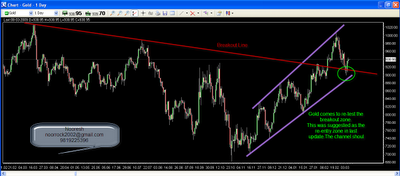 Gold :
Check the Gold technical Review document on right side. 
Gold has come close to the channel which it has been following in the last so many months.
Had shown the re-entry point ( green circle) last time around for people who took exit at 980+. 
The supports on downsides are 905/880 which may be difficult to break.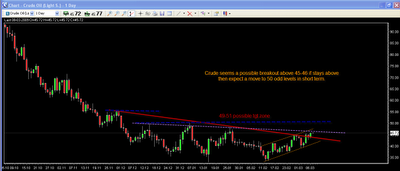 Crude Technical View :
Crude seems to be shaping up for a good move after a good round of consolidation. Sustaining above the 45-46 zone gives us a target of 49-51 and on a higher end even 55. 
In the short term it has been following a small upward moving channel which if broken would lead the quick move to 50 levels. Traders can watch for buying trades in momentum above 46 or buy on dips to 43-42 with a stop below 40.5. 
For queries and more readers can add me on Yahoo Messenger ID will be in online mode when possible to chat-- nooreshtech