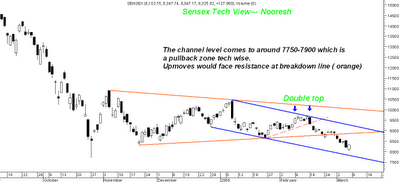 Sensex Technical View :
In the last many updates the view has been clear that its a breakdown from a triangle which gives us a minimum target zone of 7700-8300 and much lower. Sensex has touched a low of 8050. Check triangle videos link on sidebar. 
We can expect some pullback from closer to the blue channel shown which comes to 7750-7900. Any uomoves would face resistance at the breakdown line shown in orange. Resistances are 8500/8630 in short term. 
In a time analysis observation we have seen that Sensex has fallen for almost 50 sessions roughly in a downtrend. This was put up on the site after the October lows and the view was we may see a couple of stable months and a good pullback to 10700 or more which we did. 
On the same basis we considered 10470 to be a top and we might well be into the next sell-off like october and could last for 50 sessions till March end. 
Currently Sensex has almost completed 39-40 sessions since then so this gives us a possible bottom formation to come in next 10-12 sessions which would mean 23-27 March week being the period till which the downleg could last. 
Now this is just an observation and may not be entirely accurate but it has been till now so can continue to follow this as a guide. 
In the time analysis observation it is about trading sessions -- means to exclude holidays ( sat-sun and others ) . ( some people may have a time period to 2nd week of March if this is not taken into account) 
In previous posts had alerted about banking stocks -- namely Axis ( 375 ) , ICICI ( 410 )  and HDFC ( 900 ) , SBI ( 980 )  had made weak technical patterns and we got good shorting opportunity and a good exit alert also.Still the weakness remains technically but Axis seems an accumulate in pyramid manner. 
BHEl holds above 1280 on close , Bharti reverses from 570 ( doesnt break), NTPC holds up,Reliance pulls back from 1120 support. Need to see whether they can hold up these supports or not in coming week and how much is pullback. Continue to wait as a curtailed week. 
Finally FMCG stocks like HUL,ITC ,Colgate and Nestle have started losing some weight and dropped in the last week. Wait and watch to where they form a base. 
No fresh trading calls for Monday as we have 2 days break so everyone should take a day off and enjoy Holi 🙂 
Have posted a few presentations and reports on different topics in the last couple of weeks.
Listing down the reports and their description 
For queries and more readers can add me on Yahoo Messenger ID will be in online mode when possible to chat-- nooreshtech