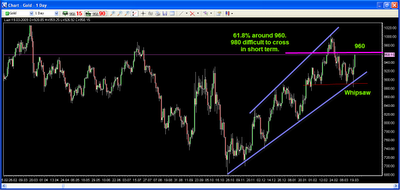 Gold :
In the last update for Gold had mentioned about the lower channel and it would be difficult to break 905/880. The low made is around 884 which seemed like a short term breakdown on daily charts but did not stay there after the FED move. The volatility is high so there is generally a dip below the channel or false breakdown. 
On the upside 960 is 61.8% retracement and would be difficult to cross 980 zones for the short term.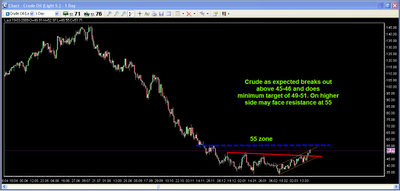 Crude :
Crude as had expected saw support around 42-43 and a breakout move above 45-46 does the tgt of  49-51 and upto 55 on higher side.
The move may face resistance around 55 levels for near term. Profit booking should set in around those levels.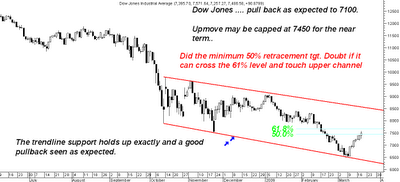 Dow Jones :
As had mentioned in my last update the higher side target would be 7450 which was the 50% retracement level. 
Dow has done that target and a lil above that. The 61 % retracement comes around 7600-7650. Doubt the index can cross that level in short term and make a try towards the broad channel shown in red which comes to 8500. 
So cautious approach now as Dow is generally a trend-setter for global markets. 
TECHNICAL ANALYSIS SESSION MUMBAI --- MARCH 28-29 
Interested people can call - 0981922539 Nooresh for more details. ( aftr mkt hours ). 
Best Regards,
Nooresh 
noorrock2002@gmail.com