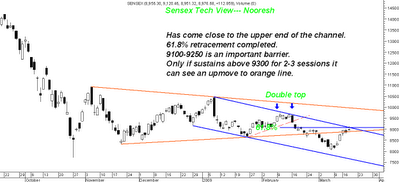 Sensex Technical View:
As we see from the chart Sensex has completed the 61% retracement and come close to the top of the channel which has been discussed in the previous updates. The zone of 9100-9250 becomes a very important barrier in near term. 
On further upmoves to 9100-9250 levels the index may get overbought (
as seen frm RSI chart posted
) it needs to be seen whether it stalls in this zone or gives some confirmatory reversal signal. Only a sustained move beyond 9300 would mean a breakout and may even create a new move to 9700 + and closer to the upward resistance line ( orange ) 
TECHNICAL ANALYSIS SESSION MUMBAI --- MARCH 28-29 
Interested people can call - 0981922539 Nooresh for more details. ( aftr mkt hours ).