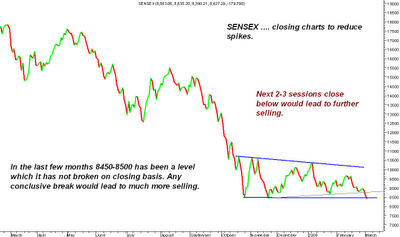 Sensex Technical View :
The consistent view in the last few weeks has been to avoid buying in the index and trades are biased on short side ever since i posted the triangle video  ( Check links on right side ). 
Sensex has for the first time closed below the leve of 8500 since October and 2-3 sessions below this level would confirm the breakdown from triangle on line charts also. 
On the long term the supports are placed at 7200-6800 zone if we break recent lows and 6150-6500 would be a worst case scenario in the next few months. This could be the last wave of selling ideally around the 13-14 mth based on time analysis. So its the time-wise pain more then the price-wise.
For detailed view check - Triangle video , Future is past entered through another gate and Time Analysis Chart links given on right side. 
BOI and BOB look weak on charts short on rise with a stop of 225 on both. Tgts could be 200-190 
Cipla seems to be the only stock which looks positive in near term. Buy above 196 or on dip to 188 stop of 185 tgt 205-215. 
Reliance Infra seems set for a breakdown and crack technically. Short on rise with a stop of 505 or below 430 for a tgt of 405-380.Also as shown yest RCAP and RCOM continue to look weak only.
NEW PRESENTATIONS , REPORTS , PDFs etc etc updated. Click on Links on right top corner. 
For queries and more readers can add me on Yahoo Messenger ID will be in online mode when possible to chat-- nooreshtech