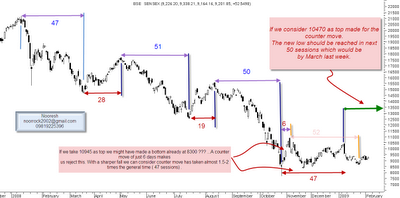 Sensex Time Analysis:
Also click the thumbnail to get the chart posted last time. Had mentioned we could see a month or more of stability which would be around 20-40 sessions. Also later had mentioned about caution once the time period of 40 sessions was done. 
--> All downmoves till now have lasted for around 47-51 sessions. 
--> The first two drops were approximately 30 % . ( 21k to 14.7k and 17.7k to 12.5k ) 
---> The counter moves ( pullback or bear rallies ) lasted for around 19-28 sessions. 
---> The counter moves  gave a bounce back of 20-25 % in the short run. 
--- > In the last downmove to october lows the down move again lasted for 50 sessions but the drop was 50%  which was much more deeper. 
--- > Similarly the counter back gave a bounce back of 35-40 % in the short run. 
CASE 1 - Top at 10945 on 5th November 
In this case after the top made Sensex reached a low of 8631 after 52 sessions but the low made is much above the 7700 low of October and this would be a deviation from the moves pattern till now. 
A deviation from the above pattern would imply change of trend but that can only be confirmed if Sensex manages to cross 11k-11.5k. 
We would not consider this scenario as the pullback move now remains of only 6 sessions which is too small a period and can be a reaction to sharp downmove ( just like Jan pullback). Also as fall was deep we can expect the counter move could take more time ( 47 sessions 1.5-2 times the general) . 
CASE 2--- Top at 10470 on 7th Jan. 
In this case if we consider the top being made on 7th Jan then Sensex may have well begun the downmove and may take around 50 sessions to make a new low or give more clarity on whether we have already found a major bottom or not. 
Such a time period calculation gives March last week or later. 
CASE 3 : Major Bottom formed. 
In my previous comparisons of Sensex bear cycles had shown a major trend change and a turnaround is indicated only when markets start making higher highs and higher bottoms. So till we dont cross 11k-11.5k zone and on a larger extent of confirmation beyond 12.5k we would still remain in the downtrend. 
On fibonacci time analysis a correction can last for 8-13-21 months. The 8th month came around Sept-Oct and 13th Month comes around Feb-March.  So these months are the most uncertain months and a major bottom or top is made in this period. 
Time and Price basis we can confirm whether the downtrend is over or not  only by March end or little later which is after 13-14 months ( or even goes till 21 mths will keep this aside now  🙂 . After which we could see a consolidation move for months and market may retrace back 38/50/61% of the full fall from 21k. 
Time Analysis is only a guess-work method and we cannot term it to be highly accurate but the aim of the analysis is to get us a brief guide of what is ahead of us and act accordingly. On all the 3 cases it may not be clear whether we have a new low / already bottomed / turnaround but one thing is clear that we may be get a better picture after March end. 
Also 8631/8316 levels would be the supports  which would decide the next big move in the market. 
Comments , Discussions Invited as this is just a brief observation.