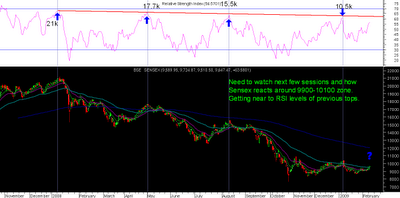 Sensex and RSI :
Although i am not a great fan of indicators just an observation on RSI and Sensex. 
In the above chart have plotted RSI and Sensex in two windows. The last few important tops and RSI levels are marked. 
All through the last 1 year the RSI levels have not crossed the trendline and in the current move we may still have some scope before doing that. But it has not been broken till now so dont expect it to break this time around. 
So in the next couple of weeks an upmove which has technical resistances at 9900-10100 would be a level to start getting cautious and keep a watch on the RSI levels. The range bound moves could get boring though.