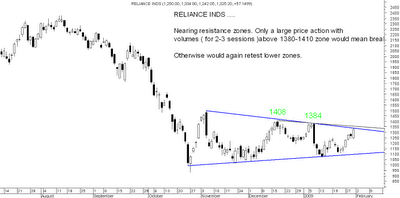 Reliance Inds :
The stock has bounce back sharply from the lower end of the triangle. 
Resistance around 1340/1385/1410 zones only a move beyond the range of 1380-1410 would be considered a breakout. But the moves need to be supported by volumes, large price action and sustain for 2-3 sessions else it can again retest the lower end. 
This seems to be exactly opposite to RIL 🙂 . The stock is testing the 150 zone which was low made in October and later. 
The stock can give a bounce back in short term. Recent top of 175 if crossed could give a tgt of 190. 
If fails to hold 145 may well go to much lower levels so could give trading opportunities on either side.
All the technical charts posted here have been simplified( click to zoom ) so every reader can get a good guide. 
Do your own research and trade or invest as per your risk apetite 🙂