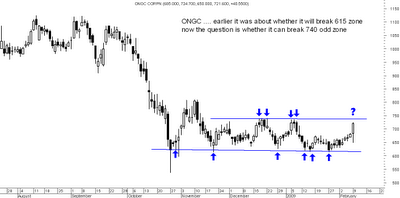 ONGC :  Few weeks back had posted a chart whether ONGC will break 615-625 or not and now the question is whether it will be able to break 740 levels or not. 
So the range has been in place for quite some time lets c whether there are enough volumes or price action to break it. Short around 740 with a stop of 750 if markets take a breather. 
As discussed yesterday 1240-1270 was a support zone in short term which did not break and now its close to sustaining above the 1350-1380. Such a move could target 1500 level but volumes dont indicate a move to the possible technical target of 1650.
The stock seems to be set for a possible breakout after a decent sideways consolidation. It can touch 43 first and sustaining beyond that could lead to 50 or more also. Volume built up needed to confirm a stronger move. Can be bought with a stop of 38. 
RPL and Petronet LNG look good on charts for a quick move to 93 and 41-42 in short term provided they stay above 88 and 38. 
Quick trade would be buy Lanco Infra above 120 tgt 132 stop of 114. 
noorrock2002@gmail.com  meraninooresh@yahoo.com