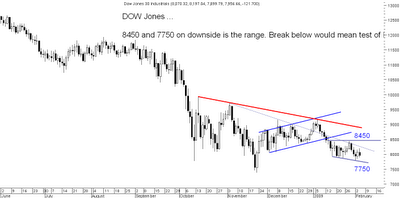 Dow Jones :
The last update was when we broke the channel on downside. Since then the index has not been able to get back beyond 8400-8500. 
Currently the short term trendline suggests support around 7750 below which we could test or break the lows also. 
The last post mentioned about a dip from 930 to sub 900 levels could be a shorting opportunity. Gold made a high of 930 exactly and low of 890 giving a good 25- 40 dollars gain. 
Yet again 930 remains a crucial level as seen on the charts. A sustained move beyond which would imply a quick move to 980-1020 levels . 
Generally have seen Gold climbing when Dow cracks. This also sets the trend for global indices. So Dow 7750 and Gold 930 could be good trend indicators in short term. 
For crude 35-40 and 43-45 is a range.