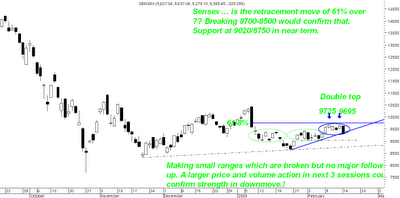 Sensex Technical View :
As has been the case with budgets the index generally drops on that day and the tradition was maintained. 
Sensex in the last one month has been boring with small ranges being made for 4-6 sessions but no convincing follow ups. Be it 8950-9450  or 9020-9450 and again 9450-9725. Every break gave a feeling that the index may be able to find a trend which is with volumes. 
As was written few days back 9750 which is 61.8% retracement and 9900-10100 band a major resistance we have seen 9725 already. Todays move has been a large price and volume action comaparatively. Next 3 sessions would decide whether the downmove ( after trendline breakdown )  gains strength to break 8500-8700 levels or subsides around 9000 and makes yet another range 🙁 . 
Investors need to stick to cash and traders can look for short trades on rise with a stop placed at 9500 or above. 
Infosys, Bharti and LnT are trading below short term supports and can expect some more dip in coming days. The view in end of last week to stay light and reduce the long trades ( lil early in RCOM Lanco which moved well ) was a good decision as we saw a dip today. 
ABB and Infosys view updated with chart in the post below. 
Only Sectors and stocks which remain strong technically right now is Sugars and Power. So if one is playing for a pullback move near supports then traders should watchout these stocks on 10-15 % dips. 
Seems a small double top formation and could be a short on rise to 925-935 with a stop of 950 could tgt 880. Even ICICI Bank looks similar. 
Jai Prakash Associates could be a quick trade for 67-63 with a stop of 75. 
Market Observations and Thoughts :
As had discussed about every day we are seeing some unusual speculative activity in small cap counters with a huge move in the day. 
Hexaware saw a 100% move from 20 to 40s and now back to 30s. Today we saw a move in Mahindra Lifespaces 127 to 169 and then to 114-120. Delivery percentage is generally 4-10% !!!
Traders should be careful and avoid dabbling into such moves unless they are very quick and lucky !! 
PEOPLE INTERESTED IN JOINING THE TECHNICAL ANALYSIS SESSIONS can mail to noorrock2002@gmail.com or call 09819225396. 
noorrock2002@gmail.com  , meraninooresh@yahoo.com