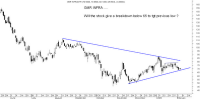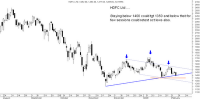 Sensex Technical View :
The trading range in the index has been contracting for last few weeks. Earlier we had a range of 8950-9400 then a break which took us to 8630. 
Yet again index is back into a new range of 9000-9400. A move out of the range could give a move up or down of 300-450 points technically. Only a move backed by volumes could lead to a larger confirmation. 
So continue to use the range to trade with strict stops or wait for a move out of the range. 
No fresh moves as of now so just pasting levels of few days back.
One can take two sides of a trade in this as per mkt conditions buy arnd 385-388 with a stop of 378 for bounce or short below 376 for a quick downmove. Could give 5-10 % move on either side. 
If the stock stays below 53 it could retest the low of 48-45 also. Traders can look for volume support in case that happens. 
This heavy seems to be the stock which would decide the next move in the index. 1380-1350 zone on upside and 1240-1270 on downside are critical levels in short term. A move on either side could set the tone for the index. 
The stock continues to remain under pressure. Short term support at 610-625 which if broken could lead to another 10% drop possibly. 
TECHNICAL ANALYSIS SESSION MUMBAI FEB 07-08 . 
( For confirmation and queries call Nooresh 9819225396 )