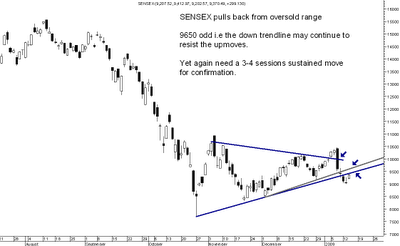 Sensex Technical View:
Sensex gave a quick pullback to come back to 9350 -9400 . As it was noted in the video that mkts have fallen around 1000-1400 points in last 3-4 sessions and a pullback is also a good possibility before confirmatory signals emerge.
In the chart above we can see the two lower trendlines which would resist any upmoves and such a pullback does happen as a testing of the lines in ideal technicals.
9450 and 9650 odd are the trendline levels. Only a sustained move beyond these lines would reduce the possibility of triangle breakdown.
The markets have been swinging below and above the triangle in the last few days. The view to wait for a confirmatory moves still remains till then wait and watch .
Stocks to watchout for :
Mahindra and Mahindra
The stock could give a breakout if sustains 330 and could target 345-360 levels quickly
Reliance Inds
The stock gave a quick bounce from lows ( some say there were rumours ) .
Resistances on upside are at 1200-1220 and higher side 1295 . Only a sustained move beyond 1300-1340 or below 1020 can give a clear direction .
Market Observations and Thoughts :
There are lot many emails , rumours and discussions on various stocks right from reliance to rolta to polaris to pyramid saimira etc have been continously doing rounds. There are many versions to each story.
In such a case the best thing to do would be to not act on rumours or source based news as market reactions could be huge and volatile which will hit day traders and short term traders. Continue to maintain discipline as in current market conditions conserving capital is more important in uncertainty.
LAUNCH OF WEBSITE :I have just completed creating a beta version of the site --- nooreshtech.co.in which would be updated with blogs , views , data,info etc on regular basis. There is a forum,chatroom, shoutbox and much more would be added soon and slowly.

FORUM :
READERS CAN CLICK ON THE TOPICS on the right hand side of the page to put their views on the forum topics or create content - forum topic to initiate new topics.

CHATROOM ;
Click on the link on right side Stock Chat and go to chat room to put in the day updates.
TECHNICAL ANALYSIS SESSION MUMBAI IN LAST WEEK OF JAN OR FEB 1st week.

INTERESTED CANDIDATES CAN CONTACT Nooresh 09819225396 for more details. The course needs no pre-requisite knowledge apart from an interest to learn.
Best Regards,
Nooresh
09819225396 ( call after mkt hours for inquiries or queries )
noorrock2002@gmail.com meraninooresh@yahoo.com