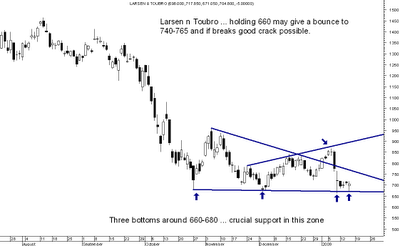 Larsen n Toubro
In the last few months there have been 3 bottoms in the range of 660-680. So ideally its a crucial support zone for short term.
The stock did try to breakout but could not move much and got resisted around the upper line.
Holding 660 -680 in a comfortable market mood could bounce to 740-765 in short term wheras a sustained move below 660 could lead a good crack of 10 % or more.

Mahindra and Mahindra
The stock is holding up in current markets ( Petrol rate cut ??? ) . A move beyond 330 could target 345-360 in short term but volume support needed.
Best Regards,
Nooresh
09819225396