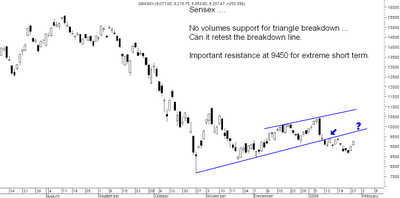 Sensex Technical View :
Sensex manages to continue to its pullback move beyond 9k. In the triangle breakout pattern we had been discussing the importance of volume support and a large price action to confirm the moves beyond the lines. 
Earlier we saw a move beyond the upper trendline of the triangle and then lower but without adequate volume and large price action support. So a clarity on the trend should emerge with the above two points only till then such flip-flop moves should continue. 
In short term 9400-9450 is an important resistance which is the recent tops. Sustaining above which the index would test the breakdown line. 
Stocks to watchout for :
GMR infra 
The stock has been holding up arnd the level 75-78 irrespective of market moves ( promoters increasing stake) . If stays above 78.5 could test 85-88. 
Titan Inds 
If sustains above 955 could touch 980-1020 in short term. Seems a small breakout possible in short term. 
Glenmark Pharma 
After giving a technical breakdown below 200-220 the stock has cracked towards 130-140 zone. 
Technically the stock gave a major breakout in 2006 where in the range was 110 to 180 odd for a long period of time. 
So the next important technical support comes at 110 odd zone ( below which no support ). Risky players can buy in parts  on dips at 140 and 120 for a bounce back tgt of 180. 
Reliance Inds 
The stock could not break below 1020-1060 zones on the downside and is now back to testing the upper trendline of the triangle which comes around 1325-1340 zone in near term. 
Should see resistance around that zone risky day traders can short closer to it for a pullback dip. 
LAUNCH OF WEBSITE :I have just completed creating a beta version of the site --- nooreshtech.co.in which would be updated with blogs , views , data,info etc on regular basis. There is a forum,chatroom, shoutbox and much more would be added soon and slowly.

Blog readers create your account on the new website to get much more info as the site would continue to have much more then the daily posts. 

Best Regards,
Nooresh
09819225396
noorrock2002@gmail.com meraninooresh@yahoo.com