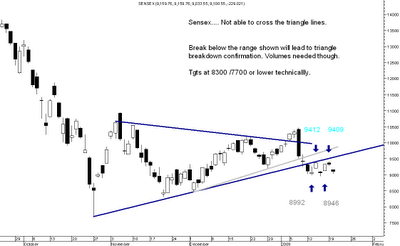 Sensex Technical View :
It seems the indecision in the index should be over in coming sessions. Lets consider a few technical points.
1) Triangle pattern.
Sensex continues to trade below the triangle breakdown levels and has been testing the line in the last few sessions and inability to cross the same suggests the weakness remains and one needs to be cautious with longs and wait for confirmation of breakdowns to short. In many triangle breakdowns the index may try to test the line before giving the move down.
Only a move beyond the upper trendline with significant volumes would negate the breakdown. Detail on triangle pattern explained in the videos -- https://nooreshtech.blogspot.com/2009/01/negative-bias-remains-till-its-below.html
2) Pullback and consolidatio move
After the breakdown it was discussed on the blog that markets have fallen more then 1000-1500 points in few days and a pullback should come before any clarity comes. The pullback can technically go till 9500 /9800 but cannot be sure so we preferred not to trade this move apart from long nifty at 2690 squared at 2765 lil early tho.
3) Short term moves
Although short term moves have been very sluggish interesting to note is top is around 9400 and low around 8950 zones. So a simple technical setup or trading setup would suggest going short or long on a break out from the range.
Stocks to watchout for :
ACC
Sustaining below 480 could be headed towards 440 levels . Can short with a stop of 3-4 % .
Bharat Electronics
The stock has been a range of 750-800 for last few sessions. Sustaining above 800 could give a tgt of 850-880 in short term.
NTPC
The stock seems to have a broken out but should see resistance around the 195 -199 mark. Can go short with a stop of 204.
TECHNICAL ANALYSIS SESSION MUMBAI FEB 07-08.

INTERESTED CANDIDATES CAN CONTACT Nooresh 09819225396 for more details. The course needs no pre-requisite knowledge apart from an interest to learn.
Brief details https://nooreshtech.co.in/noor/index.php?q=content/learn-technical-analysis.
Have added a new service for technical people. Check link below for more.
Best Regards,
Nooresh
09819225396
noorrock2002@gmail.com meraninooresh@yahoo.com