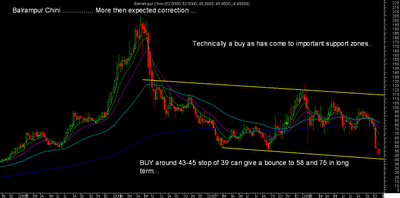 Balrampur Chini seems to have over corrected in the sugar sector and seems has come to a level where it could start consolidating for some time...

Buy around 43-45 stop of 39 for long term targets of 58 -75 or more.

Yet another momentum stock which has suddenly lost favor as the possible takeover may take a lot of time. At one point of time Sterlite was ready to buy at 100 + .
Technically the stock seems to coming to a zone where it should start consolidating and then look upwards. Buy around 22-24 stop of 20 tgt 30-40 + in long run.
These are technical views and investors do their own research.
Best Regards,
Nooresh
09819225396