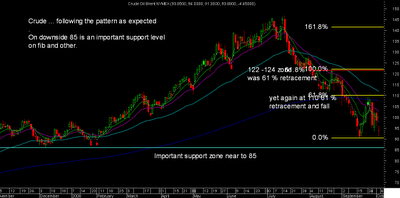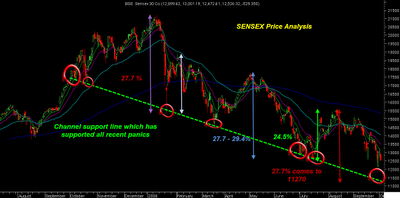 Sensex Technical View :
Some time back had put up charts on Sensex time and price analysis . In the price analysis we had an upside tgt of 15400-15500 which was almost done and booking/exit was advised. Although on the time analysis we expected a dip to start around last week of September it started a week or more earlier. Time analysis is always the most difficult thing to do and can only give us a rough range.
Now again looking at the price analysis pattern , every major downleg has been to the extent of 27.7 % in absolute terms comes to 11270 levels. Sensex fell from 21k to 15,3k and 17.7k to 14.7 k in similar 27.7 and 27.7/29.4% absolute dips. At some point of time this pattern needs to be broken to confirm an important bottom . This could happen only if markets bounce back from a level higher then 27.7% dip and dont break it for 3-6 mths and crossover above 14-15k on weekly closing basis.
So in the short term 12100-12300 and 3730-3750 on Nifty are important levels in the week which if breaks could see 11900/11500/11200. 11900 is the 50 % retracement level of 3k to 21k run and is an important zone. As we see the channel support comes in close to 11500 mark. For the Nifty similar levels are 3500-3600 on lower side which is important support range.
Market Observations and thoughts :
Crude :
As we see from the above chart in our previous updates had mentioned about 122-124 resistance be followed by a dip and then a resistance at 110 after which we could see a dip to 85 levels. Crude has continued to retrace upto 61 % then take a dip to lower levels. 85 is a very important support level for crude in coming weeks and months. On a short term basis a bounce to 100-101 is possible though before 85.
Stocks to watchout for :
BPCL , HPCL are firming up on charts and could be bought on dips or as and when crude dips below 90 could see a run up .
Educomp below 3050 if sustains could give a dip to 2800 or lower and can be used for a quick trade.
ITC is following a rough band of 180-200. Buy around 185-187 with 181 stop for a tgt of 195-199. Or go short around 197-199 with 201 stop. if breaks below either 180 or above 200 could give a quick 5 % too.
Lupin yet again is trying to give a breakout above 780 but vols are low . Difficult stock to trade though but a move above 780 could tgt 850 + .
Punj lloyd if breaks 260 go short for a tgt of 240 in short term with a stop of 269.
Read the post below this --- The Big Debate ---
Best Regards,
Nooresh0
9819225396
Its better to pay a fractional % ge of ur investment for a little professional and disciplined approach to investing and trading to generate gains with lesse risk then erode the portfolio without any help or rather learn the process of technical analysis and be independent in your decisions . We can help you in both of it by stock specific advice or training course . Check
https://analyseindia.blogspot.com/
for more details or mail to
noorrock2002@gmail.com
.