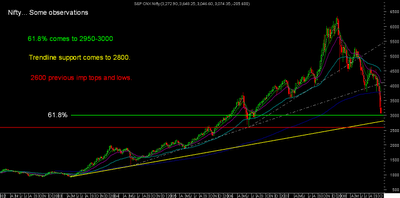 Sensex Technical View:
Oversold Oversold but it can stay for quite long. None of the small bounces are holding up and the simplest thing to do is to wait and watch whether a bottom holds for more then 5 sessions before taking any call in the short term. Also we need to see a bounce cross recent small tops to confirm some strength like yesterday it could not break 11200. Although indicators look oversold we have still not seen a decent reversal sign and further supports are at 8800/9700 so wait for the range to come or a reversal.
Sensex and Nifty Observation Charts :
The charts attached above are elaborate enough and some major points considered for Sensex and Nifty are :
1) 61 % correction ---------- 9700 and 2950-3000
2) Trendline Support --- 9600-9800 and 2800
3) Previous important lows and tops --- 8800 and 2600.
So ideally we could see some consolidation to come in this band which may be a little different on both the indices. As technicals is more an art then a strict science we cant expect it to be a hard and fast rule. Out here we cannot expect a strict following of levels but on a sustained closing basis we could see some respite and consolidation coming in the above zones which may not reach exact levels or even breach by a margin in extreme short term.
Below 8500-8800 and 2600 the next important support is way below and all the long term structure gets out of place technically. As the next major technical levels are at 6200 and 2000 although 7650 and 2300 could be intermediate ones but not major .
So technically below 12500 many supports may have been broken but none of the levels (11900/10900) gave decent enough bounces which implies this could be the last wave of correction which is painfull in price as well as time and then a sideways consolidation could take place. A fall below 8500-8800 on weekly /monthly closing would negate the last wave assumption. Also after a bottoming out formation and consolidation technically we need the index to get into a higher top-higher bottom pattern ( discussed previously as big signal) . Till the higher top pattern is not in place we cannot assume a comfortable bull rally to emerge.
Ideal strategy technically would be to buy as closer to 8800 with a stop of 8400-8800 on closing basis it self. Also the out of index components are almost quoting at 2003 low levels in cases which does give lot of long term opportunities but would like fundamental analysis with a view of current scenario!! . As i have been saying before below 11k -12k levels i do become comfortable for going long term which i continued to refrain from after Jan. ( have maintained not to commit more then 50 % at 11k though also reduction in case of bounces also, further would look at 9k or in reversal to commit more but purely long term and be ready to see erosion to extent of 15-40 % in short run from start and buying through it )
Stocks to watchout for :
Of the few charts put up BHEL has given a breakdown and could head to 1100-1200 zone. Bharti Airtel if gives a sustained closing below 670-700 we could see a breakdown. Nalco continuing towards 240-250 zone. LIC housing seems strong so wait.
None of the trading calls got triggered expect HDIL which bounced but failed.
Reliance Inds 61 % correction comes to 1300 zone and below 1200-1300 the next technical support comes to 900-950 which seems far-fetched so could see some relief in this zone for the stock
Larsen , Bhel,ABB etc have continued to inch lower since last few months ( Continously mentioned to keep a avoid on capital goods alongwith pvt banks and real estate ). Although many investors have been pouring into these stocks but i would continue to keep it on avoid and will become interested when LNT comes to 700 zone. BHEL 1000 zone. These are strong companies and would perform in the long run but were big movers of last run so technically we could see a larger dip was the reason to keep avoid on these sector picks.
Some large caps and levels which may be fine fundamentally but risk looks lower technically at particular levels and could be supports also. Do ur own research though.
ICICI Bank 260-280. Infosys 950-1020 , Lnt 680-750 , BHEL 990-1050.ONGC 650-680 .
Best Regards,
Nooresh
09819225396