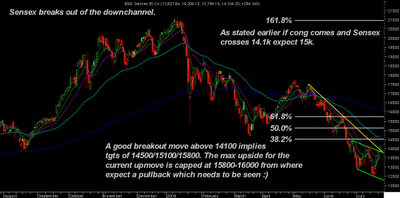 Sensex Technical View :
When markets saw a quick pullback after it was discussed that indices hace come out of the pullback and crack pattern seen since 16500 and now we need to watch the 14100 level closely. Technically the markets were poised for an upmove but a political drama and uncertainty made us not go aggresive in trades !. As 14100 is now convincingly taken of we can consider the current upmove to be a breakout from the downchannel which is being shown in all previous charts.

The current upmove would still be a corrective upmove in the downtrend and till we dont see a higher top higher bottom formation in coming weeks we would consider it so. Such an upmove should go up till a max of 38/50/ 61.8 % retracement . Would expect the current upmove to go till 50 % retracement around 15100. The upside is capped at 15800-16000 which is 61 % and 200 dema.

Strategy :
For last so many weeks we have maintained the approach to buy staggered into quality large caps like RCAP, SBI , BOI, LIC , BOI PSU banks etc etc. The major support levels we were looking at were 14100-14700 and 12500-12800 in worst case. We have seen a good recovery in indices from 12500. But important thing to notice is stocks on our radar have moved almost to 15k-16k index levels.

So as earlier it was about staggered buying now the investors should stay disciplined and now look to book profits at the levels 14500/15100/15800 slowly and again wait for dips. Traders who took an aggressive bet with the govt should keep trailing stops and book in next 2 sessions in the gap up opening.

Stocks to watchout for :

Cipla and Lupin were mentioned as setting up for a major move have jumped nicely . Cipla 240 crosses 235 ( my tgt for buy call at 220) is now set for more . Lupin watchout for a close above 750 and expect a quick move if it does so.

All the large caps mentioned yest should be booked near tgt levels.

Suddenly lot of so called analysts who were extremely bearish will now turn extremely bullish . Lot of traders/investors who were pessimistic at 13k levels are now looking to buy for quick gains again but need to be carefull. This is the general tendency where in investors buy only on major pullbacks and not patiently in dips. So be cautious in stocks which have moved 40-50 % from the lows.

Some levels for large caps where it could see resistance and one should book profits be it trading or investment .

BHEL -- 1750-1810 . HDFC 2350 , Lnt --- 2800-2900. Reliance capital 1250-1400 .

Stocks which can be traded for extreme short term with 1 % below yest low as stop and tgt 6-12 % frm close.

YES BANK . ADLABS .SIEMENS . HIND CONST .INDIA INFOLINE . NEYVYELI LIGNITE.

Pick stocks which open with a lesser gap .

Messages Sent to clients in last few days -- ( booked early in some stocks coz of Political uncertainty)

15-Jul-2008 14:46:29 Long term investors can buy partial qty LIC Housing around 225-235 zone.Keep provision to add on dips to 200.
18-Jul-2008 10:37:01 buy small qty Cipla at 216- stop of 213 or buy in momentum above 220 tgt 233-235 .
18-Jul-2008 11:45:26 NTPC buy above 171 stop of 166 tgt 182-186.
21-Jul-2008 14:22:53 Cipla has crossed 220 if trading position taken stop of 218.NTPC trail to 175.LIC housing has bounced back remain invested call initiated at 225-235 book part at 255-265.
21-Jul-2008 15:04:20 NTPC near to tgt book at 182+ fully.LIC does 261.Tata chemicals hold.Cipla trail 220.
22-Jul-2008 11:11:57 Buy Siemens small qty at 490-494 stop of 468 tgt 550-600. Beneficiary of nuke deal so risky bet.Momentum above 500-505.

22-Jul-2008 14:40:38 Sensex resistance on upside is 14500-14600.RCAP long term hold maintained. High risk players can go for Relinfra , Siemens , HCC if have to take a bet on Congress going thru Can hedge with 3800-3900 put

Technical View presentations.
https://www.4shared.com/file/52292941/78ee58d4/QuickGans_Technical_Analysis.html

https://www.4shared.com/file/52348854/4c2c005d/KAL_AAJ_aur_KAL.html


TECHNICAL ANALYSIS SESSION MUMBAIJULY 26-27

( the course doesnot need pre requisite knowledge of technicals or fundamentals or experience in markets. The technical analysis session we conduct is for people who are interested in understanding the process of analyzing technicals in a simple , quick and efficient manner and would like to get independent in analyzing and deciding for themselves throughout in the future.)

Interested people can get in touch 09819225396 or mail to noorrock2002@gmail.com at the earliest.

To subscribe to exclusive newsletter and messenger /sms services check https://analyseindia.blogspot.com for details

Best Regards,

Nooresh 09819225396